President's Message for August 2023
Friday, 4 August 2023 | View:
---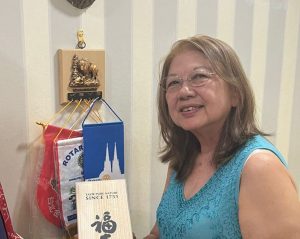 July has flitted past, and we are now into August, Rotary's "Membership and New Club Development Month".
I am both excited and exhilarated that during the first Board Meeting held on 9 July, we unanimously agreed that the Club must put our members at the heart of all we do to make their Rotary experience enjoyable and fulfilling. This can only be achieved if our members fully appreciate, and understand, what being a Rotarian means, and if the mission and goals of Rotary are aligned with their own.
It is important to recruit new members to grow the membership for our Club. We must all seize every opportunity to share our Rotary experiences with members of our family, friends and colleagues. When our stories pique curiosity, invite them to our Club's monthly meetings to experience the Rotary moments of truth.
But first, we ourselves must individually be ambassadors for the Club. To be able to infect others with the Rotary calling, we must be fully engaged in the Club's on-going activities and community, youth, and international services projects. Through the fellowship with fellow Rotarians and friends of Rotary when we participate actively in on-going activities, programmes and major projects, at the Club, inter-Club, District or International levels, our sense of belonging and desire to contribute, in whatever form that is within our capacity, will transform us into true Rotarians, people of action.
When we feel, and see, the impact of the activities and projects undertaken within the target communities we serve – that smile of gratitude in the faces of the beneficiaries of our projects, that joy and warmth in our hearts as we observe the live-changing transformation resulting from our actions – we know we have fulfilled the objective of Rotary: Service Above Self.
Whether it is just an encouraging word from us to lift the spirit and bring joy; or a simple act of acknowledgement of the needs of the frail and elderly, young and vulnerable, lonely and "lost"; our actions matter in creating hope in the lives of those amongst us who are less privileged and vulnerable.
Let us work together to grow the Club, foster lasting camaraderie and friendship through fellowship. Let us journey on to touch the lives of others and make a difference. Let's experience the sense of fulfilment first hand by being directly involved in "Creating Hope for the World".
Yours in Rotary
Tan May Yan, President
Rotary E-club of 3310